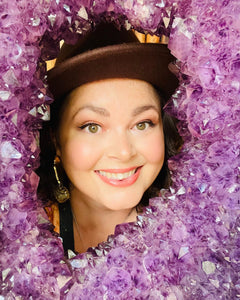 About the designer
Birdee & Star was created in 2015 by designer Shannan Star.
Shannan has eclectic taste and a love of all things retro, whimsical and magical. Birdee & Star is a brand for those who love to express themselves and stand out from the crowd.
As a recent breast cancer survivor, Shannan has overcome much adversity and seeks to spread awareness of this disease through her upcoming 'Eff Cancer' earring collection and cancer blog.
She lives in beautiful Brisbane, Australia with her two young sons and pet birds.
Eff Cancer Blog
"Shannan, I have received the results of your biopsy…" my breast surgeon began.  I felt panicked and numb all at once and steadied myself on my bathroom towel rack.
---
We acknowledge the Turrbal and Jagera people as the Traditional Land Owners of where we work and reside in Western Brisbane/Meanjin.
We pay our respect to Elders past, present and emerging and extend that respect to all Aboriginal and Torres Strait Islander People. We recognise, celebrate and respect Aboriginal and Torres Strait Islander People as the First Australians.